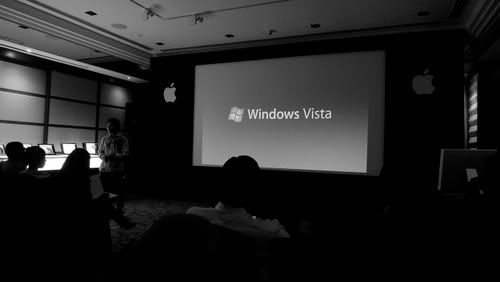 Regional launches are always interesting. Snow Leopard was definitely low key, and so it seemed in other regions. Back here in Asia, half the Keynote presentation was about Windows 7. Hell had definitely frozen over as journalists and bloggers shifted in their seats when Apple's regional marketing guy went into an in depth comparison with Snow Leopard and Microsoft's upcoming operating system. Half the presentation. In fact the comparison was so meticulous, that the audience naturally asked why Apple had moved into talking about their competition — something they've never really done in the past. I guess it was because Asia was still primarily a Windows-centric playing field.
No wait, scratch that. A bootleg Windows playing field. "Apple does not treat its customers like pirates" so they don't initiate any copy protection efforts on disks. But it also makes you wonder why in other Asian countries, the iTunes store still isn't available for music.
That's Apple's Vatican II I guess. They're going colloquial.